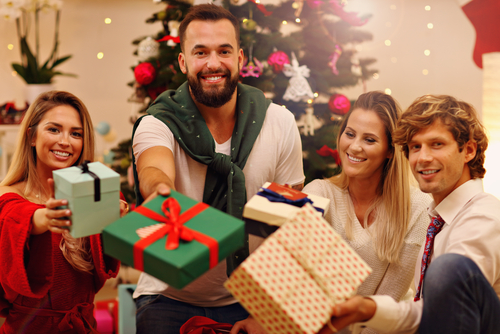 Are you stumped about giving a one-of-a-kind gift to someone you care about this Holiday season? If you still have someone on your gift-giving list that is need of a smile transformation, you might consider giving them a gift which will last long past the holidays. An attractive smile brings with it enhanced self- confidence. Our Groover Family Dentistry team offers dental veneers and dental whitening as to change an unsightly smile into a radiant one, effectively and quickly.
In today's world, one's appearance is more important than ever and can affect various elements in one's life. Indeed, a positive body image can boost self-esteem and affect their career, social and romantic prospects, to name just a few. Let's look at how teeth-whitening and dental veneers can bring a big smile to your loved one!
Holiday Gift #1 Teeth Whitening
Have you noticed that when people broadcast a radiant smile, it exudes confidence? When someone's smile is free of discoloration and staining, not only do they feel better about themselves, but others view them more favorably as well. If you are inspired to give someone you love the gift of a luminous smile, our experienced dentists, Dr. Groover can help. We provide professional teeth whitening which safely and effectively lightens stains from fluorosis, aging, tea, coffee, soda, wine, or tobacco habits, and illness or medications.
Holiday Gift #2 Dental Veneers
If your loved one is dissatisfied with their smile due to slight gaps, cracks, discoloration, are crooked or misshapen, our porcelain dental veneers can cosmetically transform their smile without investing extensive time, such as those undergone with braces or implants. So long as their teeth and gums are healthy, they could be ideal candidates for wearing customized tooth-colored porcelain shells over their tooth flaws.
If you are looking for a special gift to give a loved one this holiday season, or are looking to give yourself the gift of a brighter smile, please call our office at 912-354-9541 for details. Our Groover Family Dentistry team in Savannah, GA, is happy to schedule a consultation to help improve smiles all year round!